Staten Island Smile Makeoever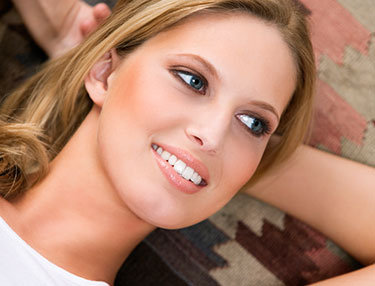 Do you avoid the mirror or cover your smile when you laugh? Are your teeth misshapen, discolored, or just not exactly the way you want them to look? If a mediocre smile has impaired your self-confidence, a smile makeover from Staten Island Dental Care is just what you need!
Cosmetic Dentistry in Staten Island
Staten Island dentist Dr. Fred Hecht, MAGD, can use one of our many cosmetic dentistry treatments to transform your smile and deliver the image you want to portray.
When you come in for a smile makeover consultation, Dr. Hecht can assess your oral health, discuss your smile goals, and present a smile makeover treatment plan to give you the smile of your dreams. We offer a wide range of cosmetic dentistry procedures to treat many different appearance concerns including:
Aesthetic Restorations.

For broken, chipped, or otherwise damaged teeth, we can offer high-quality dental crowns to restore the outer appearance of your teeth while also protecting them from further damage and decay.

Dental Prosthetics.

If you are missing one or more teeth, let us help fill that gap in your smile! We have full dental crowns for a single missing tooth, or dental bridges for one or more teeth. For a permanent replacement option, we can also support these restorations with a dental implant.

Porcelain Veneers.

Dental veneers for teeth are the perfect fix for a brand new and even smile. Teeth veneers can even out the shape and size of your teeth, fix small gaps, whiten the appearance of your front teeth, and add an extra layer of repair and protection to broken or chipped teeth. At Staten Island Dental Care in Staten Island, veneers are used alone and in combination with other cosmetic dental procedures to create complete smile makeovers. Because they can correct cosmetic tooth misalignment in one visit, veneers are sometimes referred to as 'instant orthodontics'.
Click Here to Learn More About Dental Veneers

Teeth Whitening.

If you're already pleased with the shape and health of your teeth, but still wish they were a brighter white, come see us for a professional teeth whitening service. In just one appointment, we can make your teeth several shades whiter!
Dr. Hecht will discuss which of these options can give you the gorgeous smile you're looking for. Easy payment options, phased dental treatment plans, and convenient evening and Saturday hours make the smile makeover experience simple!
Call Us Today to Make Your Dream Smile a Reality!
Staten Island Dental Care serves patients from Brooklyn and beyond with comfortable dentistry built to last! Call today to schedule your smile makeover consultation with Dr. Hecht, MAGD.